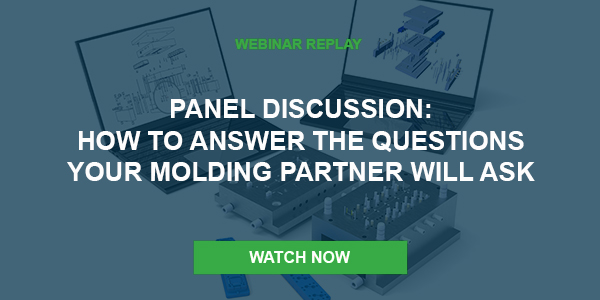 This webinar is from Xcentric Mold, a Quickparts company.
Watch our panel discussion featuring two of our most senior technical account managers as they discuss the questions they routinely ask our clients to ensure their plastic parts can be manufactured to their expectations. This video replay will help you understand why your molding partner asks questions about your project and how to answer them. More importantly, it will give you important points to consider prior to beginning your next part design that will improve performance, reduce development time, and minimize cost. If your molding partner isn't asking these questions of you, maybe it's time to look for a new partner.
Our discussion covers:
Design topics including wall thickness, reinforcements, cosmetic considerations and performance

Tool requirements including gate location, part volume and intended use, and expected tool lifetime

Part information covering material selection and finish requirements
Complete the form to access the webinar video.
Featured Panelists

Dan Graham
Dan is a Senior Technical Account Manager with Xcentric Mold & Engineering. He holds a bachelor of science degree from Oakland University. Dan has worked for Xcentric for 5 years and has extensive experience helping customers bring their concepts to market quickly. Connect with Dan on LinkedIn.

Tom Walworth
Tom is a Senior Technical Account Manager with Xcentric Mold & Engineering. He holds a degree from Washtenaw Community College and has worked at Xcentric for 7 years, providing customers with design for manufacturability guidance to optimize the performance of their plastic parts. Connect with Tom on LinkedIn.
Vielen Dank und wir sehen uns bei Nortec!