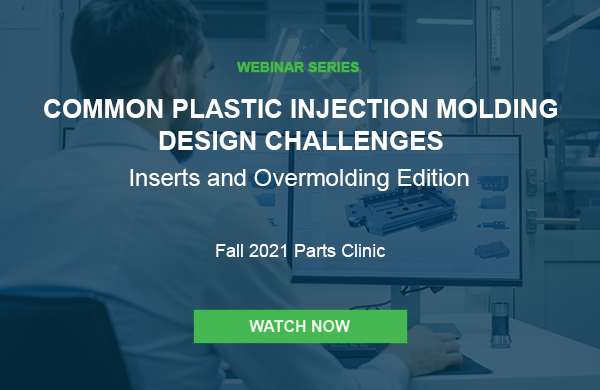 Common Plastic Injection Molding Design Challenges: Inserts and Overmolding Webinar
This webinar series is from Xcentric Mold, a Quickparts company.
In this popular webinar, our tooling experts—Glen and Darwin—discuss the complexities encountered with each type of molding and provide tips to ensure your insert and overmolded parts are a success.
You'll learn:
Typical part and tool design challenges you will encounter
How to avoid pitfalls in your parts design
How to modify parts design without compromising on your design intent
Complete the form to access the webinar.
Featured Speakers

Glen Miller
Glen has been with Xcentric for 4 years and is currently a Senior Tooling Engineer and Quality Control Specialist responsible for all new tool tryouts. Glen also spent time as a CAD Tool Designer and Tooling Engineer with over 25 years in Injection Molding.

Darwin Roe
Darwin has been with Xcentric for 3 years and is currently our Senior Tooling Engineer. Darwin has also been a CAD Tool Designer and Mold Maker with over 30 years of experience in Injection Molding.
Vielen Dank und wir sehen uns bei Nortec!